December 2, 2010
Via AppleInsider.com
While Research in Motion's Blackberry may be gaining in mobile web browser percentage, in terms of handset sales Apple's iPhone continues taking in a larger slice of the market.
Research firm Nielsen today published a report outlining the results of its survey of U.S. smartphone users for October 2010, finding that Apple has finally caught up to Research in Motion in market share, with the two companies finishing in a "statistical dead heat" with Apple's iPhone claiming 27.9% of the market and Research in Motion's BlackBerry line grabbing 27.4%. Google's rapidly-growing Android operating system claimed 22.7% of the market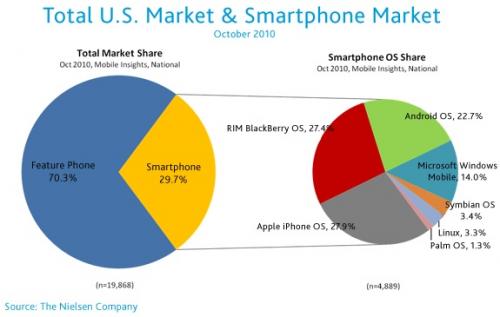 While Apple outsold Research in Motion last quarter on a global basis (14.1 million vs. 12.4 million) and other reports had suggested similar results for the U.S. alone, Nielsen's study notably focuses on installed user base rather than new sales.
Nielsen's report also offers a look at future smartphone purchasing plans across several demographic divisions, finding that the iPhone (30%) nudges out Android (28%) as the most desired smartphone among those likely to purchase a new device, with the iPhone leading among current smartphone owners and Android leading among users currently on featurephones who are seeking to upgrade to smartphones.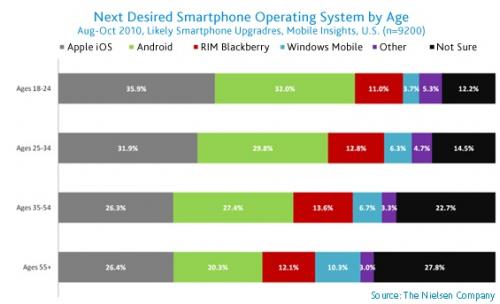 Broken down by age, the iPhone leads Android as "most desired" in all age brackets except the 35-54 range, with users in the 35+ brackets markedly less certain about their most desired smartphone operating system than younger users. Finally, the study finds that female users lean relatively strongly toward the iPhone over Android as their most desired smartphone (30.9% vs. 22.8%), while male users prefer Android by a 32.6%-28.6% margin.
Why then is the Blackberry apparently gaining over the iPhone in mobile web browsing/access?
Its likely due to many iPhone users spending more time accessing the internet through various "Apps" instead of a conventional, proprietary web browser.  Actual time spent online may be more skewed to specific apps designed for information access specific to the iPhone iOS platform.